We hold expertise in offering our client's the state-of-the-art windows and doors that are crafted out in unique and exciting designs to overhaul your space. Our specially designed tailor-made windows are well suited to meet the varying demand of architects, interior designers and home-owners. Our extensive collection of windows and doors reflects various features:
Weather Proof & Non-Corrosive
They beat all kinds of weather conditions and have an outstanding weathering performance.
These windows and doors also maintain its perfect form and appearance all year round, year after year.
Ultra Violet Radiation Resistant
These windows and doors are crafted out of polyurethane based material, which does not let it fade and crack when exposed to direct sunlight.
Anti-Fungal, Anti Termite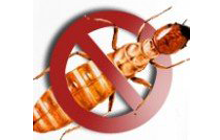 These windows and doors are insects and termites proof and have a hard surface made up of compound, which protects them from such invasions.
Strength & Durability
These windows and doors have high-impact strength and are longer lasting. This durability factor adds-up to their high-quality and standard.
Maintenance Free
These windows and doors do not require periodic repainting or maintenance. Moreover, they do not rot, warp or corrode. They are quite cost-effective because of their low maintenance.
Thermal Insulation
These windows and doors are airtight and have the option of two layered vacuumed glass panes (multi chambered design) to achieve more from air conditioning.
Acoustic Insulator
It gives protection against noise pollution and higher levels of privacy are insured. Their fusion welded joints do not allow gaps to develop over a period of time, promising a dust and noise free environment.
High Security Multi-Point Locking System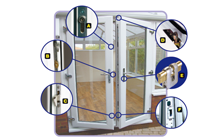 Windows and doors are equipped with multi-point locking system, which gives real peace of mind that the living space is safe and protected.
Fire Resistant
PVC-U windows and doors are fire-resistant and do not support or enhance accidental fires. So, once these are installed, you don't need to worry about the fire accidents anymore.
Eco Friendly
These windows and doors are energy efficient in comparison to many other materials. As a stronger option to wood, they contribute in drive against deforestation and helps in providing an eco-friendly substitute.